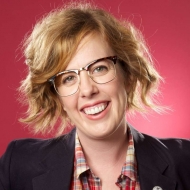 This user account status is Approved
This user has not added any information to their profile yet.
Lindsey Barrow can be seen on Casual (Hulu), Speechless (ABC), Powerless (NBC), The Kicks (Amazon), Henry Danger (Nickelodeon), or in spots for Kool Aid, Wendy's, Progressive and many other national commercial campaigns. Lindsey has performed on house improv and sketch teams for The Ruby LA and UCB. She's performed at iO, Second City, and all around the city of Los Angeles doing stand up, sketch, and improv. She can currently be found doing sketch on her house team Money Pit and with the women's sketch show Sex vs. Violence, and improv with the longest running house team KAREN at The Ruby LA where she's also the Artistic Director and one of the theater's co-founders. Lindsey wrote, acted, and produced the web series Lunch., which won the Los Angeles Comedy Festival's Best Comedic Web Series.