Saturday 08/18/2018
10:00 pm - 11:00 pm
Tickets Not Available At This Time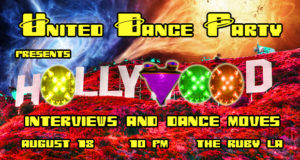 Join Mr. Timespace and crew as they dance us off into the next willenium. This show gets weird. You gotta see it to believe it.
Host Mr. Timespace: Thomas Hamilton
Band Leader Ba'And: Peter Stoia
Dance Synthesist Korg: Nicole Villela
Dance Synthesist Moog: Sarah Steinman
This show is $5 for the general public and free to Ruby LA students and team members with valid Ruby LA ID.
Online ticket sales close 1 hour before show.
Thank you for supporting The Ruby LA and ensuring a safe space for the comedic voices of underrepresented folks!