Friday 08/31/2018
8:00 pm - 9:00 pm
Tickets Not Available At This Time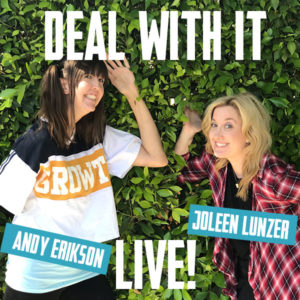 Deal With It is a live stand-up comedy and talk show featuring seriously funny conversations about mental and physical health conditions. We're all about breaking stigmas, spreading awareness, and using humor to help heal and connect. The live show is based on the popular health and comedy podcast of the same name and features performances by stand-up comedians, followed by an interview. Get to know your favorite comedians like you never have before!
The show is hosted by comedians Andy Erikson and Joleen Lunzer. Our amazing guests will be announced soon!
Everyone is dealing with something, so let's talk about it!
This show is $5 for the general public and free to Ruby LA students and team members with valid Ruby LA ID.
Online ticket sales close 1 hour before show.
Thank you for supporting The Ruby LA and ensuring a safe space for the comedic voices of underrepresented folks!