Saturday 01/19/2019
9:00 pm - 10:00 pm
The Ruby L.A., Los Angeles CA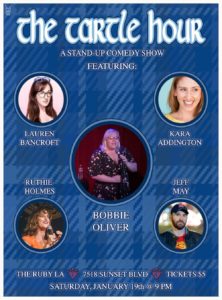 Tartle is the Scottish word for hesitating when introducing someone for fear that you've forgotten their name. Join Lauren Bancroft for an evening of stand up comedy as she 100%, absolutely do not forget the names of some of their favorite comedians!
Tickets: $5 in advance OR cash or Venmo at the door!
This show is $5 for the general public.
Online ticket sales close 1 hour before show.
Thank you for supporting The Ruby LA and ensuring a safe space for the comedic voices of underrepresented folks!