Saturday 06/30/2018
10:00 pm - 11:00 pm
Tickets Not Available At This Time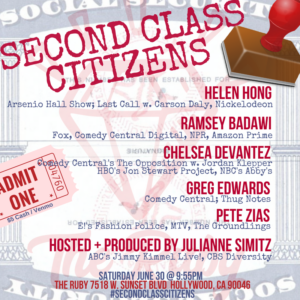 Second Class Citizens is a political comedy show featuring women, GLBT, and other diverse voices. The show will feature a variety of different acts!
Featuring:
HELEN HONG The Arsenio Hall Show; Last Call w. Carson Daly
RAMSEY BADAWI Fox, Comedy Central Digital, NPR, Amazon Prime
CHELSEA DEVANTEZ Comedy Central's The Opposition with Jordan Klepper, HBO's Jon Stewart project, NBC's Abby's
GREG EDWARDS Comedy Central; Thug Notes
PETE ZIAS E!'s Fashion Police w. Joan Rivers, MTV, The Groundlings
JULIANNE SIMITZ ABC's Jimmy Kimmel Live!, CBS Diversity, Bad News
This show is $5 for the general public and free to Ruby LA students and team members with valid Ruby LA ID.
Online ticket sales close 1 hour before show.
Thank you for supporting The Ruby LA and ensuring a safe space for the comedic voices of underrepresented folks!