Saturday 11/03/2018
9:00 pm - 10:00 pm
Tickets Not Available At This Time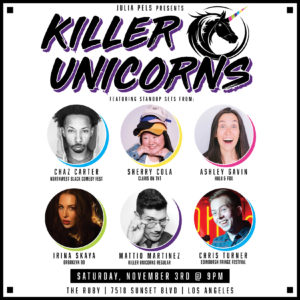 Killer Unicorns is nationally recognized show, featuring top talent with diverse voices. All three producers are queer and huge advocates for the LGBTQ community at large.
Our lineups have included: Beth Stelling, Jak Knight, Eliza Skinner, Jackie Cashian and comics from SATURDAY NIGHT LIVE. We have been featured in LAist & Time Out LA!
Creator & Producer: Julia Pels (WhoHaHa)
Co-Hosts & Co-Producers: Theo Manhattan (Disney Channel) Brett Candice (Being Black Enough).
This show is $5 for the general public and free to Ruby LA students and team members with valid Ruby LA ID.
Online ticket sales close 1 hour before show.
Thank you for supporting The Ruby LA and ensuring a safe space for the comedic voices of underrepresented folks!