Friday 08/17/2018
8:00 pm - 9:00 pm
Tickets Not Available At This Time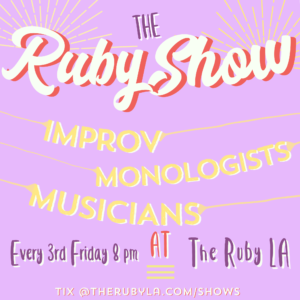 The Ruby Show is the premiere improv show at The Ruby LA. We invite our favorite people to improvise with us, our favorite friends to monologize, and our favorite bands to play music.
Improv with:
Jen Curran
Muriel Montgomery
Dwayne Colbert
Randy Thompson
Patricia Villetto
Ashley Ward
Lindsey Barrow
Artemis Pebdani
Ptolemy Slocum
and more!
This show is $5 for the general public and free to Ruby LA students and team members with valid Ruby LA ID.
Online ticket sales close 1 hour before show.
Thank you for supporting The Ruby LA and ensuring a safe space for the comedic voices of underrepresented folks!