Friday 06/15/2018
9:00 pm - 10:00 pm
Tickets Not Available At This Time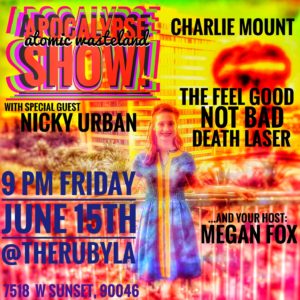 A high energy variety show with an atomic wit, APOCALYPSE SHOW! aims its crosshairs to entertain the people of the post-apocalyptic wasteland.
Each month APOCALYPSE SHOW! Delivers quality entertainment to quality survivors. This month we are proud to present:
APOCALYPSE SHOW! Atomic Wasteland
With…
Magic by Charlie Mount
Improv by The Feel Good Not Bad Death Laser
Special guest Nicky Urban!
… and your host Megan Fox
Oh, what a day! What a lovely day! So Strap on that pip-boy, and get your dusty butts down that Fury Road to 
Friday
 night at the Ruby! No telepathic dogs will be admitted.
This show is $5 for the general public and free to Ruby LA students and team members with valid Ruby LA ID.
Online ticket sales close 1 hour before show.