Friday 06/29/2018
9:00 pm - 10:00 pm
Tickets Not Available At This Time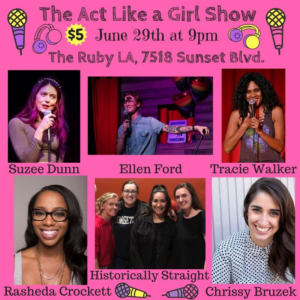 June gloom should be over soon, come fight it off with some laughter with us! The Act Like a Girl Show is back! 

June 29th at 9pm

 at the intersectional feminist theater, The Ruby LA!!! 7518 Sunset Blvd. 
Hosted by:
Suzee Dunn and Tracie WalkerInterviews with:
Rasheda Crockett (Actor, 'Riding the D with Dr. Seeds; writer 'Adam Ruins Everything') 
Stand-up from:Ellen FordMusic from:
Chrissy Bruzek (Second City preformer)
This show is $5 for the general public and free to Ruby LA students and team members with valid Ruby LA ID.
Online ticket sales close 1 hour before show.
Thank you for supporting The Ruby LA and ensuring a safe space for the comedic voices of underrepresented folks!