Saturday 05/05/2018
9:00 pm - 10:00 pm
Tickets Not Available At This Time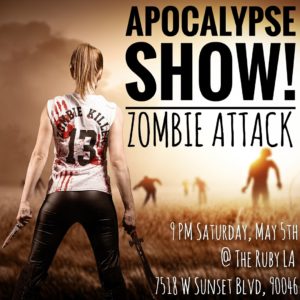 It ain't easy living in a Zombie Apocalypse. Thankfully there's a variety show to help get you through it! So grab your swat gear and your running shoes and take shelter in The Ruby LA.
Sure, the end is nigh but let's laugh a little! You know… while we can?
This month APOCALYPSE SHOW! Presents : Zombie Attack
Sketch, Comedy, and Magic!
…and your host Megan Fox!
This show is $5 for the general public and free to Ruby LA students and team members with valid Ruby LA ID.
Online ticket sales close 1 hour before show.