Friday 04/20/2018
9:00 pm - 10:00 pm
Tickets Not Available At This Time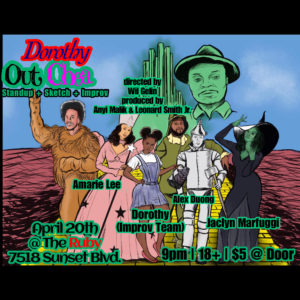 Out Chea (pronounced ow-chia) is a sketch program featuring an eclectic lineup of the hottest stand-up comedians performing sets and acting in scenes. Produced by iO West's Leonard Smith Jr. (The Cover Up) and Anyi Malik (Redford), the show cracks jokes on the benign, the scandalous, any and everything in between. Looking for a show that delivers the full comedy experience? We're "Out Chea!"
Dorothy, a premiere improv Harold team founded in Los Angeles, CA will be joining Out Chea April 20th at the Ruby Theater.
Standup Comics featured:
Jaclyn Marfuggi (Bravo)
Alex Duong (Nickelodeon)
Amarie Lee (TruTV)
Directed by Wil Gelin (Drug Money)
This show is $5 for the general public and free to Ruby LA students and team members with valid Ruby LA ID.
Online ticket sales close 1 hour before show.