Friday 05/25/2018
10:00 pm - 11:00 pm
Tickets Not Available At This Time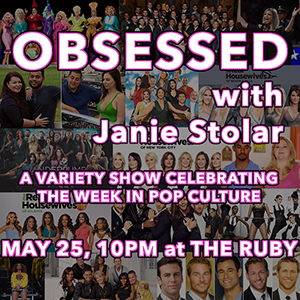 In this salute to the most pertinent pop culture events of the week, comedian Janie Stolar brings on LA's finest comedians and performers to celebrate everything from "The Bachelorette" to "Vanderpump" and everything in between. If you're a fan of pop culture, the unscripted televisual arts, and renditions of the National Anthem gone awry, this show is for you. Plus, you never know which former reality show contestant might show up to stir up some drama (or be interviewed in a respectful manner, hopefully leading to an insightful conversation about their experience on unscripted TV).
This show is $5 for the general public and free to Ruby LA students and team members with valid Ruby LA ID.
Online ticket sales close 1 hour before show.