Saturday 10/13/2018
10:00 pm - 11:00 pm
Tickets Not Available At This Time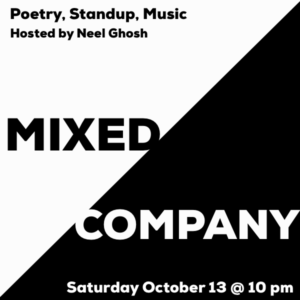 Join Neel Ghosh and some of his favorite musicians, standups and poets in this amazing variety show. Featuring:
Music from
Leo Xia and Fuzzy
Poetry from
Lady Basco (poetry)
And Standup from
Logan Guntzelman, Kazeem Rahman, Sheridan Pierce, and Quincy Jones
This show is $5 for the general public and free to Ruby LA students and team members with valid Ruby LA ID.
Online ticket sales close 1 hour before show.
Thank you for supporting The Ruby LA and ensuring a safe space for the comedic voices of underrepresented folks!