Saturday 01/19/2019
10:00 pm - 11:00 pm
Tickets Not Available At This Time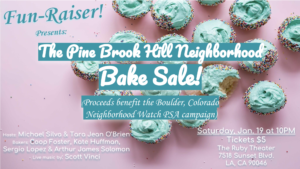 The Pine Brook Hill neighborhood of Boulder, Colorado has been the victim of signage pranks. Street signs are being switched, house numbers are being changed, and white curbs are being painted red—it's chaos!
A group of concerned citizens are having a bake sale to finance a PSA to bring community awareness to the neighborhood shenanigans. We're baking for a better community!
Please join Fun-Raiser for this character showcase with extra spoonfuls of sugar…
This show is $5 for the general public.
Online ticket sales close 1 hour before show.
Thank you for supporting The Ruby LA and ensuring a safe space for the comedic voices of underrepresented folks!