Saturday 01/05/2019
10:00 pm - 11:00 pm
Tickets Not Available At This Time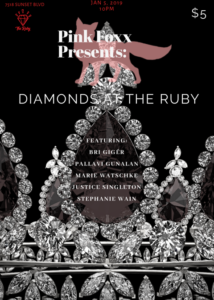 Saturday January 5th, 10p at the Ruby LA I have a handful of the funniest ladies in Hollywood! Be sure to come check out
Pink Foxx Presents: Diamonds at the Ruby"
Featuring:
Justice Singleton
Pallavi Gunalan
Marie Watschke
Bri Gigér
Stephanie Wain
Audrey Stewart
You will not be disappointed,
Luv ya,
-Foxx 
This show is $5 for the general public.
Online ticket sales close 1 hour before show.
Thank you for supporting The Ruby LA and ensuring a safe space for the comedic voices of underrepresented folks!