Saturday 04/14/2018
9:00 pm - 10:00 pm
Tickets Not Available At This Time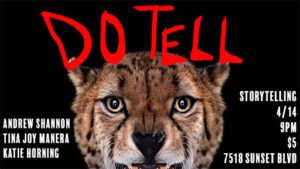 Do Tell… is a storytelling show of friends. Hosted by Nathaniel Boggess, the show's three storytellers tell their favorite story based on a theme. This month's theme is . After the storytellers are done, we open it up to the audience to enter into our storytelling lotto. If you're picked, you're invited to get up and tell your story on stage!
This month features:
Andrew Shannon
Tina Joy Manera
Katie Horning
This show is $5 for the general public and free to Ruby LA students and team members with valid Ruby LA ID.
Online ticket sales close 1 hour before show.