Friday 01/18/2019
9:00 pm - 10:00 pm
Tickets Not Available At This Time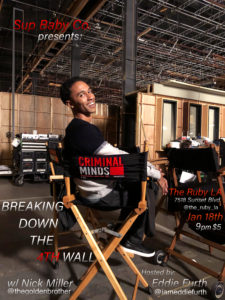 Nick Miller and Eddie Furth are Breaking Down The 4th Wall, Friday, January 18, 2019 at 9pm at The Ruby LA.
Fresh off of his co-star role on Criminal Minds, Nick Miller sits down with host Eddie Furth (creator, executive producer of Historical Roast on Netflix) to discuss his journey through acting, LA and himself.
Find out what Nick's secret is as he shares his thoughts and process as an actor.
Brought to you by Sup Baby Co.
This show is $5 for the general public.
Online ticket sales close 1 hour before show.
Thank you for supporting The Ruby LA and ensuring a safe space for the comedic voices of underrepresented folks!