Patricia Villetto is one of our favorite people. Not only is she on improv team Aeroplane, directing sketch team The Vanities, and an amazing teacher (just ask her last class), but she is also a v. v. talented writer.
Patricia was the head writer for DreamworksTV's sketch show, OMG and is currently working for Man of Action on Ben 10 Reboot and Screechers Wild. She's can also be found working on the upcoming Adult Swim show Tigtone. Below she shares with us where she does most of her writing – her desk!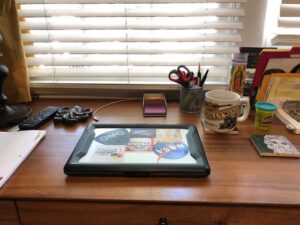 What thing do you HAVE to have to start writing / working?
Coffee! Preferable in my oversized Dollywood mug.
What's your favorite thing in your desk area and why?
I always keep a can of Play-Doh on my desk. One of the owners of Titmouse, Shannon Prynoski introduce me to this. It's like a stress ball that still makes you feel like a kid.
What is a just punishment for people who steal pens?
No punishment I hope, since most of my pens have a hotel or company logo on it I assume I've stolen all of them.
Thanks Patricia! To start writing that pilot with Patricia, register here!