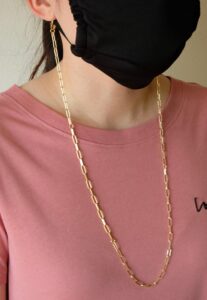 We've all started wearing masks. And they are, in the words of Vogue, the "It Accessory" of 2020. But we need to start accessorizing the accessory. And also warding off evil in the process. Enter the "white bead" chain from Mikukumi.
Mikukumi is a Etsy store based out of LA. They make delicate gold / gold filled pieces (important distinction for those with sensitive skin) like necklaces, bracelets, or earrings. But the piece that really jumped out is their white bead chain with its blue eye detail and spiritual protection.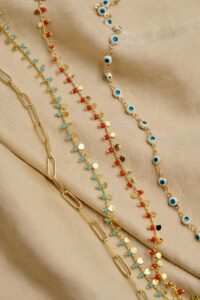 Eyes on jewelry and artwork have been around for thousands of years and were thought to be a repellent for "the evil eye" – a curse that brings bad luck to those who unfortunate enough to be plagued with it. And right now, sis, we'll try anything.
How are you accessorizing your it accessory?
Sometimes we'll talk about comedy classes, sometimes we'll talk about comedy shows, sometimes we'll talk about activism, sometimes we'll talk about women owned businesses, we're a real mix. This article is an example of one of those things.