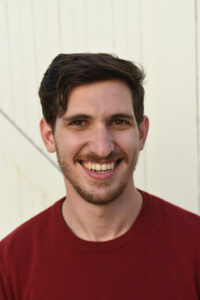 Sid Raskind from our own sketch team The 'Burbs and Tiktok fame sits down and chats with us all about creating vids.
What made you decide to start doing Tiktok videos?
I decided to make TikToks to break up the day to day of my office job. I could make them on my breaks or make them fast at my desk. It was a creative outlet that helped my ADD brain feel less confined.
How often do you produce content? And what tips do you have for getting over Tiktok writer's block?
I make three to five videos a day when I have a thought or feel inspired. My biggest tip is make your first TikTok and your writer's block will be cured.
The magic of TikTok is that writer's block is solved for you by the platform. TikTok is based on sounds and trends that are made to be repeated in different ways. You get the opportunity to create and move past the block to unlock your creativity.
You're also a writer and performer on The 'Burbs! What's your favorite Burbs memory?
I am! The burbs and I have been together longer than I've known my wife so there are a lot of good memories. My favorite memory involves fire, Toy Story, and seeing my life flash before my eyes. Sign up for the class and I'll tell you the whole story ?