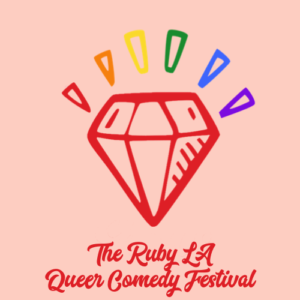 05/04/2018
The RUBY LA QUEER COMEDY FESTIVAL on JUNE 9th is now OPEN FOR SUBMISSIONS.
or email submissions to: RubyQueerComedyFest@gmail.com
Basic Guidelines:
Please tell us:
•
HOW
many people in the act?
•
WHAT
is your act about? (Please include as much detail as possible and an approximate runtime of your act.)
•
WHERE
are you – L or G or B or T or Q? (We do ask that you identify your submission with
one or more "letter(s)" of the LGBTQ alphabet. If you don't fit neatly into a single box (most of us don't) just check all that apply. We'll work with you to schedule your appropriately.)
Submissions must be from a member of the LGBTQ community.
FAQs
"What should I submit under if I identify with more than one letter of the LGBTQ+ experience?"
Select all that apply! We're not asking you to put yourself in a single box, and so our producing team will work with you to program your act and make sure we get as many diverse voices on stage as possible.
"What does each 'letter mean'?"
L is for women who love women – lesbian and bi women who self-identify with the lesbian community at large.
G is for men who love men – gay and bi men who self-identify as part of the gay male community. B is for people who love two or more genders. Those who self-identify as bisexual, pansexual, etc.
T is for people of trans experience including non-binary, a-gender, etc.
Q is what we're calling queer – there are many colors of the rainbow including Ace or Asexual, Non-Binary, Gender Fluid, Pansexual, etc that don't always get an equal voice, and Q is our attempt to give equal voice to all experiences. Anyone who identifies as queer will be considered, and if you feel like elaborating, it will help us find the most appropriate place to program your act.
"Does my comedy need to be 'queercentric'?"
If that's part of your natural comedy voice, we're not shy about putting it on stage. However, we don't require that your act focus on that one aspect of your whole person. You should put your best work on stage – whatever that is.
"How much time do I get on stage?"
We don't want to limit the types of acts that can preform by requiring a particular performance length. The producersdiscussed a maximum length of 10 minutes per act, and priority for longer blocks will be given to teams of performers. The producers will work with everyone to maximize the amount of voices we can get on stage as well as most effectively using the time.
"Can I preform if I'm not a member of the Ruby LA community?"
YES! We're an inclusive community, so if you preform or come to one of our shows and want to become more involved, then guess what! You're part of our community, baby! We are giving priority to house team members and individuals who have taken classes at the Ruby between 5/7 – 5/14.
"I'm an ally, and I want to preform at your festival."
Thank you for your interest! Allies are welcome on the stage as invited guests of our LGBTQ performers. We do not have timeslots allocated for allies. (Also, that's not a question.)
More Questions? Email us at RubyQueerComedyFest@gmail.com