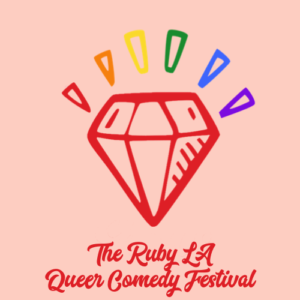 The Ruby Queer Comedy Festival is, at it's heart, an effort to bring the community
closer together.
If you're interested in participating in any outreach efforts, please reach out to us at:
rubyqueercomedyfest@gmail.com
With that in mind, we're working on several charitable initiatives to enrich our community
involvement:
ADMISSIONS DONATIONS TO RAINBOW RAILROAD
A portion of our proceeds from ticket sales will go to RAINBOW RAILROAD.
Rainbow Railroad's mission, courtesy of their website: "In countries all over the world,
lesbian, gay, bisexual and trans-identified (LGBTI) people live in basic fear for their
freedom, their safety and their lives. They often have nowhere to turn because their
government and police not only tolerate but encourage this brutality. Rainbow Railroad
exists to help these people get out of danger to somewhere safe. In the spirit of and with
homage to the Underground Railroad, the mission of the Rainbow Railroad is to help
LGBT people as they seek safe haven from state enabled violence, murder or
persecution. Through funds collected by people like you, we're able to support, provide
information, and help to arrange safe transportation for these LGBT people to
somewhere in the world where they can live their lives in safety."
TRANS PRIDE CLOTHING SWAP DRIVE FOR TRANSTRIBELA
TransTribe LA will be facilitating a clothing swap during this year's Trans Pride (June
16, 2018) at the Village (1125 N. McCadden Place). Since there isn't a requirement to
trade in old clothes to nab some new to you threads that match your gender identity,
we're currently seeking donations of new or gently used clothes. That shirt you haven't
worn in a while, the dress that you've grown out of, the suit that doesn't fit your new
presentation, these and any other clothing options are currently being accepted by The
Ruby during the Queer Comedy Festival. So why not clean out your closet and donate
to someone in need? Plus, any items that remain after the clothing swap will be donated
to the LGBT Center for their homeless youth and senior programs.
The secret TransTribe Los Angeles Facebook group is a safe place to connect and
socialize with transgender, genderqueer and non-binary people in the Los Angeles
area. Members are encouraged to post information about trans positive social events
and opportunities where we can get together IRL, have a blast and build a stronger
community. This is a body positive, gender identity & sexual orientation empowerment
zone! You are perfect just the way you are and we love you just the way you are right
now! To be added to the group, please message one of the admins on Facebook (Billy
White Acre, Heather Barron, Zoey Rose) since it is inaccessible through FB's search
function.
CHARITY RAFFLE TO RAISE FUNDS FOR RAINBOW RAILROAD
Thanks to the generosity of these (and more!) local business, we'll be raffling off the
following prizes. These fees will go directly to RAINBOW RAILROAD:
Health Spot
Deluxe Spa Treatment gift certificate, valued at $100, Deluxe Spa Treatment
includes: primrose oil shampoo and conditioning treatment, soothing tonic,
complete brush and blowout, nail clipping and grinding, full body massage, ear
cleaning, blueberry facial, teeth brushing, and moisturizing paw rub.
Casita Del Campo
Romantic Dinner for 2
John Kelly Chocolates
Deluxe Chocolates Tower Large Tower Includes:
 12pc Signature Gift Box
 2 Truffle Fudge Bars, Signature Gift Box
 4pc Dark Chocolate with French Grey Sea Salt Box
 2pc Chocolate & Caramel with Red Hawaiian Alaea Sea Salt Box
Umami Burger
2 $50 Gift Certificates
Stilazi Cosmetics
Goody Bag
Frends Beauty Supply
Deluxe Self-Care Basket
Edwin Monzon
Deluxe Make-over session, including skin and product consultation
Scott Root
Dungeon Master for Custom 6-player Session (approx. 4 hours)
Punky Color Hair Color
Goody Bag of Temporary Hair Color
Clubman Pinaud
Charcoal Peel-Off Face Masks
Pinz Bowling () – $350 Bowling Party Gift Certificate
MORE TO COME!
If you're a business or individual interested in donating, please fill out this form, and
we'll be in touch!
OUTREACH TABLE
The heart and soul of the festival. We'll have info on local resources for all LGBTQ
people; info about THE RUBY LA; merch to show your RUBY PRIDE – including
FOLDING FANS with the festival logo – All profits from sales of these fans goes to
Rainbow Railroad; name tags (with space for your preferred pronouns), plus a safe and
supportive atmosphere to talk about anything you need to talk about.