Enrollments Currently Closed
SUNDAYS 1PM-3PM
CLASS SESSIONS:  September 9, 16, 23, 30, October 7, 14
CLASS SHOW:  SUNDAY, October 21 at 5pm
Price: $250
Instructor: Nicole Yates

The Ruby  LA Standup Class is the place for you to dip your toe into world of Jokes. Learn the nuts and bolts of how the Stand Up World works, try your hand at writing exercises to see the comedy in your world, and get on that mic every single week. Put that all together with a dash of rewriting and a spoonful of laughter and you have a safe and supportive class to give Stand Up a try! There may also be awesome stickers.
This class runs for 6 weeks and culminates in a class show on The Ruby LA's stage in the heart of Hollywood.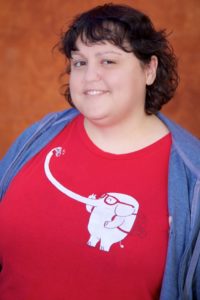 Nicole Yates is a Los Angeles based Stand Up Comic. She came to LA via Philadelphia, where she performed all over the country including a few festivals. She is also co-founder of Philly Improv Theatre's Black Friday Comedy Marathon, has appeared in some silly videos and was part of the sketch team The Decoy. She has a podcast called "2Mary2Tyler2Moore" and enjoys a good sandwich.
Our classrooms are ADA compliant.
Price: $250
SUNDAYS 1PM-3PM
CLASS SESSIONS:  September 9, 16, 23, 30, October 7, 14
CLASS SHOW:  SUNDAY, October 21 at 5pm
Refund Policy
The Ruby LA has a no-refund policy on all classes and shows. If we need to cancel or re-schedule a class for any reason, you are entitled to take that class or classes equal to the admission price of that class. You may use your class credit for up to two years, after which time it expires.

The Ruby LA reserves the right to replace a course instructor, without notice, and at any time, with another equally qualified course instructor.

The Ruby LA also reserves the right to postpone or cancel a course if an emergency or unforeseen conflict arises. In the event of a complete cancellation, students' tuition will be refunded or credited. Any fees incurred by students for travel, lodging, etc. will not be reimbursed by the Ruby LA.