Friday 11/16/2018
9:00 pm - 10:00 pm
Tickets Not Available At This Time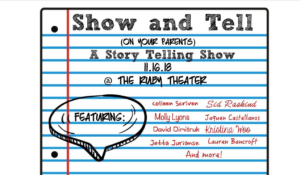 Show and Tell (On Your Parents) A Storytelling Show
with stories from:
Colleen Scriven
Sid Raskind
Molly Lyons
Jaquen Castellanos
David Dimitruk
Kristina Woo
Jetta Juriansz
Lauren Bancroft
and more!
This show is $5 for the general public and free to Ruby LA students and team members with valid Ruby LA ID.
Online ticket sales close 1 hour before show.
Thank you for supporting The Ruby LA and ensuring a safe space for the comedic voices of underrepresented folks!