Saturday 02/23/2019
10:00 pm - 11:00 pm
The Ruby L.A., Los Angeles CA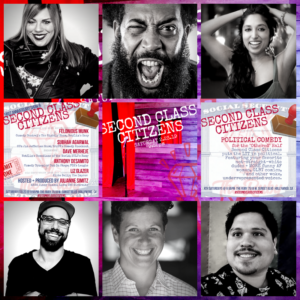 Second Class Citizens is a political comedy show featuring women, GLBT, and other diverse voices. The show will feature a variety of different acts!
Featuring:
FELONIOUS MUNK (Comedy Central's Nightly Show; Netflix's Easy)
SUBHAH AGARWAL (Comedy Central's Jim Jefferies Show; TruTv's Comedy Knockout)
DAVE MERHEJE (Netflix's Comedians of the World; JFL Montreal)
ANTHONY DESAMITO (Comedy Dynamics' Out on Stage; FOX Laughs)
LIZ GLAZER (Elite Daily; The Improv)
JULIANNE SIMITZ (ABC's Jimmy Kimmel Live; CBS Diversity)
This show is $5 for the general public.
Thank you for supporting The Ruby LA and ensuring a safe space for the comedic voices of underrepresented folks!