Saturday 06/29/2019
9:30 pm - 10:30 pm
Tickets Not Available At This Time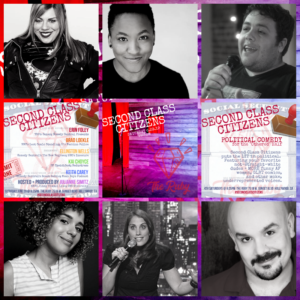 Second Class Citizens is a political comedy show featuring women, GLBT, and other diverse voices. The show will feature a variety of different acts!
Featuring:
Erin Foley (TBS's Conan, Comedy Central Presents)
Brad Loekle (NBC's Last Comic Standing, E!'s Fashion Police)
Keith Carey (Comedy Central's Roast Battle, Mean Boys Podcast)
Kai Choyce (SF Sketchfest, Reductress)
Ellington Wells (Comedy Central's The New Negroes, HBO's Insecure)
Julianne Simitz (ABC's Jimmy Kimmel, CBS Diversity)
This show is $10 for the general public and free to Ruby LA students and team members with valid Ruby LA ID.
Thank you for supporting The Ruby LA and ensuring a safe space for the comedic voices of underrepresented folks!