Saturday 02/02/2019
9:00 pm - 10:00 pm
Tickets Not Available At This Time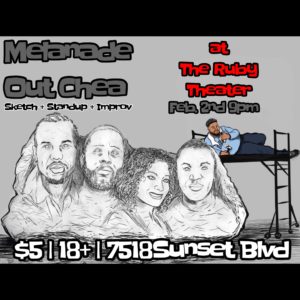 Out Chea:
Out Chea (pronounced ow-chia) is a sketch program featuring an eclectic lineup of the hottest stand-up comedians performing sets and acting in scenes. Curated by Anyi Malik (Hulu, Buzzfeed) and directed by Lloyd Collins (Second City/UCB), their show cracks jokes on the benign, the scandalous, any and everything in between. Find them online (@OutCheaSketch) and "Out Chea" at stages all over Los Angeles, CA!
Melanade:
Life already gave these amazing performers melanin, and they knew exactly how to craft that into the perfect blend. By coming together and adding some Brown Suga, they formed "Melanade," (@MelanadeImprov) an experience in comedic excellence. Hailing from all over, and based in Los Angeles, their thoroughly seasoned improv is food for the soul.
This show is $5 for the general public.
Online ticket sales close 1 hour before show.
Thank you for supporting The Ruby LA and ensuring a safe space for the comedic voices of underrepresented folks!