Friday 08/24/2018
8:00 pm - 9:00 pm
Tickets Not Available At This Time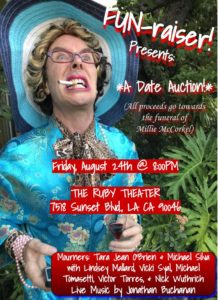 This month's FUN-Raiser character showcase takes place in Mesa, AZ and is hosted by local favorites Madga St. James (Tara Jean O'Brien) and George Husband (Michael Silva). Their good friend Millie McCorkel tragically passed away and they got together with some of their favorite friends to host a good old fashioned "date auction" to raise money to give Millie the burial she deserves! Save the Date – To BUY a Date – at Millie's Date Auction! Single or married, all are welcome.
Featuring:
Hosts: Tara Jean O'Brien & Michael Silva
Lindsey Mallard
Vicky Syal
Victor Torres
Michael Tomasetti
Nick Wuthrich
and
Live Music: Jonathan Buchanan
This show is $5 for the general public and free to Ruby LA students and team members with valid Ruby LA ID.
Online ticket sales close 1 hour before show.
Thank you for supporting The Ruby LA and ensuring a safe space for the comedic voices of underrepresented folks!