Friday 12/14/2018
8:00 pm - 9:00 pm
Tickets Not Available At This Time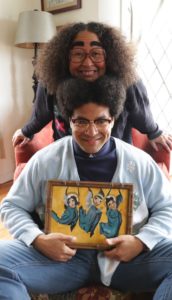 Fam Club World Premier Screening
Meet Drake's nerdy brother and sister! Muriel Montgomery and Nick Casalini present the first half of season one of their new web series Fam Club. Created by and starring members of The Ruby LA community, Fam Club is an intimate look into the lives of Norman and Genevieve – Drake's secret siblings he keeps hidden in Canada. Starring Muriel Montgomery and Tony Tucker as Genevieve and Norman, with Randy Thompson as their "therapist" Dr. Thompson. Created, written, directed and edited by Muriel Montgomery and Nick Casalini. Shot by Meghan O'Brien and Kyle McGrath. Produced by Ugly & Delicious and Oscar's Kitchen.
This show is $5 for the general public and free to Ruby LA students and team members with valid Ruby LA ID.
Online ticket sales close 1 hour before show.
Thank you for supporting The Ruby LA and ensuring a safe space for the comedic voices of underrepresented folks!