Friday 07/27/2018
9:00 pm - 10:00 pm
Tickets Not Available At This Time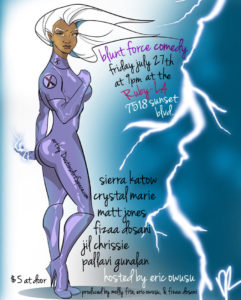 Blunt Force Comedy is a dynamic stand up event that showcases hilarious comedians who are culturally diverse, LGBTQIA, and unabashedly captivating. The comics on our show come from far and wide to slay audiences with their norm-bending, thought-provoking, sidesplitting material. In other words, we hit people with Blunt Force Comedy!
This show is $5 for the general public and free to Ruby LA students and team members with valid Ruby LA ID.
Online ticket sales close 1 hour before show.
Thank you for supporting The Ruby LA and ensuring a safe space for the comedic voices of underrepresented folks!