Friday 06/21/2019
8:00 pm - 9:00 pm
Tickets Not Available At This Time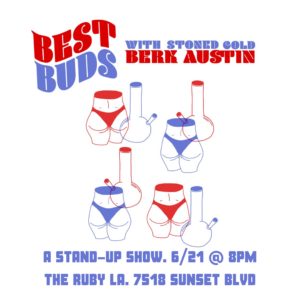 Happy Summer Solstice! The night sky is lit and so are we! Come on down to celebrate the changing of the seasons with this smoking hot lineup and your favorite BEST BUDS.
*Note there is no smoking inside the venue. But we encourage your highness.
**If you don't smoke weed, you will still love the show unless you hate laughter and happiness.
***Join us at The Pikey for drinks after the show! Cause Friday! (Across the street @ 7617 Sunset Blvd)
LINEUP:
Noah Findling 
Pallavi Gunalan
Christine Medrano
Chinedu Unaka
Rachel Wolfson
Allie Zisfein 
This show is $10 for the general public. Lineup subject to change.
Online ticket sales close 1 hour before show.
Thank you for supporting The Ruby LA and ensuring a safe space for the comedic voices of underrepresented folks!