Enrollments Currently Closed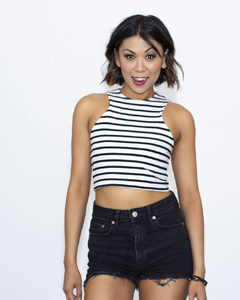 Instructor: Tess Paras

DAY PLAY YOUR HEART AWAY. Ready to book some t.v.? Not sure how to audition for a two-line co-star role? How do I make this self-tape? Sick of taking those acting classes that have you do a "typing" exercise that just seems… well, racist, sexist, and stereotypical?!?! We've got you! Learn how to apply your techniques as an actor, improviser and writer to those yummy one-day co-star and guest star roles. Get ready to get those credits on IMDB and that t.v. money in the bank!
Tess Paras is a Los Angeles-based writer, actor, and producer. She just completed filming a series regular role on a new untitled Amazon family comedy.  She also recurs as "Jayma Chan" on the CW's Crazy-Ex Girlfriend, "Miranda" on the GLAAD award-nominated series, Take My Wife  (Seeso/Starz), and she is most recognized for her role as "Dana Tomas" on NBC's hit drama, Grimm.
As a writer & producer, Tess has created digital political comedy content for Fusion, including the viral sketch "Trumping Makeup Tutorial" with over 6 million views. Additionally, Tess' satirical videos on her YouTube Channel — "Typecast" and "What If Catcalls Were Cheeseburgers"  — have also gone viral and were featured on: Glamour, BuzzFeed, Perez Hilton, Refinery29, NBC Asian America, MTV News, Jezebel, Slate, The Wrap, Angry Asian Man, and The A.V. Club. Tess Paras was a cast member and writer for the 2014 CBS Diversity Sketch Comedy Showcase. She's represented by Gersh.
This course is 4-weeks long.
Our classrooms are ADA compliant.
Price: $175
CLASS SESSIONS ON: JUNE 13, 20, 27, JULY 11