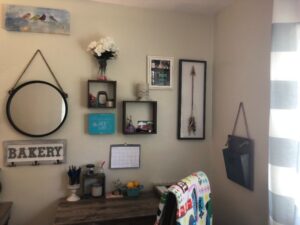 In Desk Piece, we'll talk to folks in the Ruby LA community about where they do their creative work and show a little glimpse of what their desks look like. First up is Ruby co-founder, and sketch teacher Jen Curran.
What thing do you have to have to start writing / working?
A fresh, full glass of water.
What's your favorite thing on your desk area and why?
Right now it's an old fashioned metal french fry cutter that my mom sent me. It's got a handle all the way around it and a grid of slicers in the center. My grandma runs a thrift store and they found it for me there. I don't know why they thought I would like it but I do. I love it. Whatever they thought, they were right.
Do you listen to music when you work? If so what's your favorite thing to listen to?
I don't listen to music, I get too distracted and can't focus if music is on. But I will sometimes light a candle and if it's cold out I use my heated blanket. That room can get chilly.
What writing program do you use?
I honestly do most of my writing in google docs and if it's a script I use writers duet.
Thanks Jen! If you'd like to submit your desk for a desk piece, email lindsey@therubyla.com